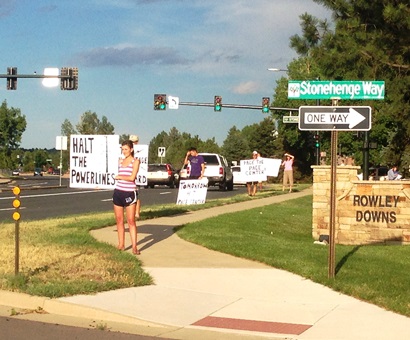 Pack the PACE CENTER! (July 23, 4 – 7 p.m.) In direct response to your letters and emails, the Public Utilities Commission and its administrative law judge have scheduled a Public Comment Meeting – in Parker — on Xcel's request for a Certificate of Public Convenience and Necessity. Parker Mayor and Town Council have graciously agreed to host the meeting at the PACE Center on Wednesday, July 23, from 4 p.m. to 7 p.m. The judge will preside over the meeting. Everyone is invited, and we especially want to make sure everyone in Parker and Aurora knows about the meeting and Xcel's stealth effort to create an unhealthy iron curtain through the two communities. (Read More)
Opposition to Xcel's Proposal to Install Extra-High Voltage Power Lines
Rowley Downs Homeowners Association opposes Xcel's current proposal to install extra high voltage lines through neighborhoods in Aurora and Parker and support community efforts to help Xcel rethink its current plan. For more information, visit the website of the Halt the Power Lines community effort.
Our residents have expressed their concerns in several areas.
Safety issues and the understandable, rational and normal fear arising from potential health risks, including the very real possibility that high voltage transmission lines cause childhood leukemia. If Xcel believes that there are no health issues for residents, we would ask that it to provide to each homeowner along the proposed transmission line–and communicate it as well to the overall community through the local media–a legal affidavit stating unequivocally that there would be no health risk to homeowners from the proposed lines if they were installed.
Declining property values (and taxes) and the loss of environmental and attractive viewshed and open space along the intended path. Again, if Xcel disputes declines in real estate property values, we ask that it unequivocally guarantee financial compensation to homeowners along the proposed transmission line path who see their property values decline if the lines are approved and installed.
Belief that in 2014, there are (or should and could be) better technological approaches than the 19th and 20th century approach of stringing lines on a pole.
We do not believe this is solely or even primarily a Rowley Downs issue because it impacts so many residents in Aurora, Parker and Douglas County, but based on feedback from our members, we as a neighborhood do not and cannot support Xcel's ultra high voltage line project as it is now envisioned.
We have been invited to "dialogue" several times with Xcel and its representatives and have offered possible solutions, including placing old and new lines on one reasonable-sized monopole or placing the lines underground. Xcel has been quick to tell us the poles would be too tall (with a "flashing light on the top"), the cost prohibitive, or the grid less reliable. Essentially the company has repeated, "What you see planned is what you're going to get." Evidence suggests the company's "community outreach" has been merely a window-dressing exercise to check off a box for the state's Public Utility Commission (PUC). We reject this closed-minded approach and believe Xcel should be required to come up with a better, more compassionate plan than they have proposed—a new plan that will address regional and Parker resident concerns. We've even wondered if it would not be a more ecologically and customer-beneficial course for Xcel to promote and underwrite greatly expanded local energy sources, such as roof-top solar so that new and expanded—but still inefficient—long-distance energy transmission would never be necessary.
---
The Rowley Downs community in located in the Eastern section of Parker, Colorado, East of Parker Rd. (Highway 83) and South of Main Street. Our Homeowners Association (HOA) Meetings are held the second Monday of each month at 7 p.m. at Monroe Hall (corner of Seibert Circle and Williamson Drive).